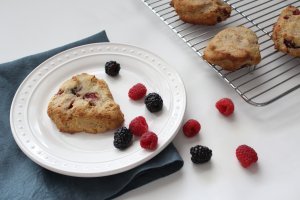 These scones are a fantastic way to use garden fresh berries.  Other flavors, especially herbs, can be used straight from the garden as well.  The fruit can be varied, but make sure it's soft, grate or finely chop hard fruit like apple before stirring in or the finished scone will fall apart.  We like to limit the amount of almond flour baked goods that we eat to 1-2 a week, and these scones make the cut quite often!
Almond flour, though GAPS legal and more nutrient dense than white flour, can too often displace the healthy fats, meats, fish, vegetables, and broth that are needed for healing on GAPS. A nice compromise is to have each family member drink a cup of hot or cold broth before eating their baked good.
Almond-berry Scones
Grain Free Berry Scones made with Almond Flour
Sweet-tart berries in a delicious buttery almond flour scone.
Cuisine:
Gluten free, GAPS Diet, SCD, Paleo, Grain Free
Ingredients
2.5 cups of almond flour
½ tsp sea salt
2 eggs
4 tablespoons honey or other natural sweetener or 4 dates, pureed
⅓ cup melted butter or ghee
½ cup fresh or frozen berries
Directions
Preheat oven to 350. Grease a baking sheet with butter or coconut oil.
In a medium bowl, mix together dry ingredients.
In a separate bowl, whisk eggs until combined. Add melted butter, and honey.
Combine wet and dry ingredients.
Fold in berries.
Drop ¼ cup of dough onto the baking sheet, shape into triangle shapes.
Bake 15 minutes.
3.5.3208
The post Grain Free Berry Scones made with Almond Flour appeared first on Health, Home, & Happiness.
Hits: 26